Donate something at the end of the year? Our fund for victims of right-wing, racist and anti-Semitic violence in Saxony-Anhalt welcomes your solidarity. Since its establishment, the Victims' Fund has supported victims in over 500 cases with a total of more than 330,000 euros. Your donations will help us to continue to do so.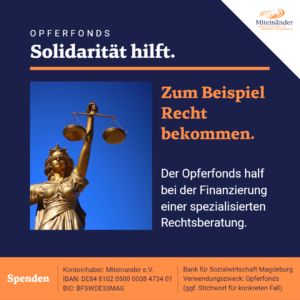 For fast and unbureaucratic help, victims, their relatives or other persons they trust can write to Miteinander e.V., Erich-Weinert-Str. 30, 39104 Magdeburg, with their request. The team of the Mobile Counseling Service for Victims of Right-Wing Violence in Saxony-Anhalt can also help you with your application. The decision on the respective application is made by an independent advisory board. There is no legal entitlement to benefits from the Victims' Fund.
Donation account
Account holder: Miteinander e.V.
IBAN: DE84 8102 0500 0008 4734 01
BIC: BFSWDE33MAG
Bank für Sozialwirtschaft Magdeburg
Intended purpose: Victims' Fund / if applicable, keyword relating to specific case
Donations to the Victims' Fund are tax deductible. For amounts up to 50 euros, the deposit slip is considered a donation receipt. For higher donations, we will be happy to send you a donation receipt upon request. Please contact our office for this purpose.