Report on results of political education in rural areas published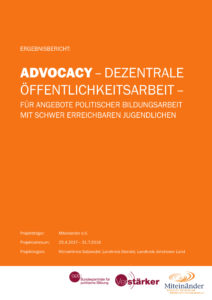 In rural areas, there is too much of some things and too little of others. The much is the area. Anyone who has traveled a seemingly short distance on rural roads quickly realizes that rural areas can feel almost endless. In terms of political education, this is a major obstacle, because how can you implement programs if you already have a day's drive to the event location behind you? The few things are, for example, the actors on site, especially as a provider of political education work you are often a lone fighter. There is a lot to do and a lot to drive, but there is no time for targeted public relations work.
And this is where the project "Advocacy" comes into play. The project started precisely at this weak point and was able to allow time to talk about political education with decision-makers, such as school social workers or politicians. The core question was: "What does it take to implement more political education in rural areas?
The results from the discussions and from further events accompanying the project can be found in this brochure: ADVOCACY - decentralized public relations.